This is an internal documentation. There is a good chance you're looking for something else. See Disclaimer.
Icinga Web Interface¶
Introduction¶
Icinga is a web interface for the Nagios monitoring system which used to monitor Nice installations on OpenShift.
It can be found at https://monitoring.vshn.net. Use your regular VSHN login.
Basic Concepts¶
Alerts and Warnings¶

Unhandled alerts and warnings are indicated by a solid red and orange respectively.
Acknowledging an Alert or Warning¶

When a warning or alert is worked on, it should be acknowledged. Acknowledging tells everyone else that the issue is being attended.
Acknowledging works like this:
Select the service.¶

Select acknowledge and leave a comment describing what's being done to restore the service.¶
Schedule Downtime¶

When a service is expected to become unavailable because of maintenance, a downtime should be scheduled to ensure no alert will pop up.
Find the service.¶

Show service details.¶

Fill in downtime details.¶
Custom Application Endpoints Dashboard¶
By default there are Current Incidents, Overdue and Muted dashboards. To have a better overview of the Nice installations, it's recommended to add a custom Application Endpoints dashboard as described here.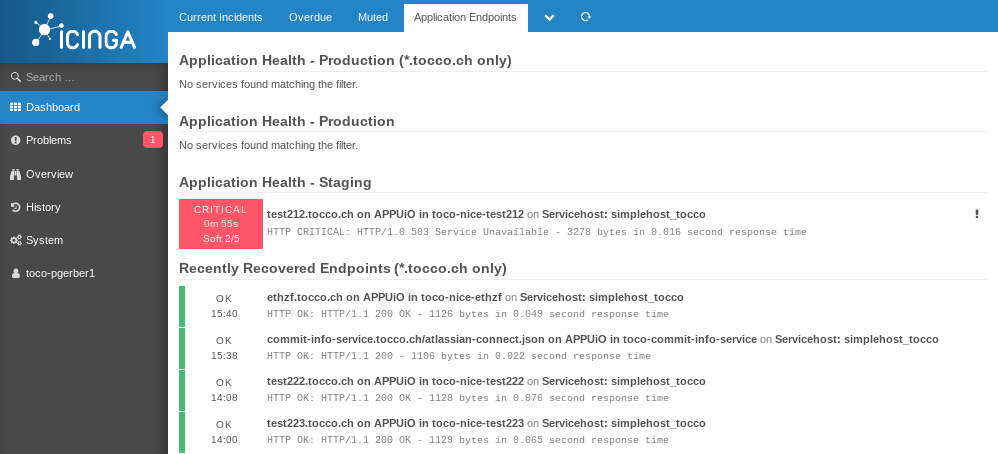 Adding the dashboard:
Select Add Dashlet

Create Dashboard with these options:

Url:

monitoring/list/services?service_problem=1&service=%2Asimplehost_tocco%2A&((service_display_name!=%2Atest%2A&service_display_name=%2A.tocco.ch%20%2A))&sort=service_severity&dir=descdeploymentconfig.apps.openshift.io%2Fnice&modifyFilter=1


Dashlet Title: Application Health - Production (*.tocco.ch only)

New Dashboard: true

New Dashboad Title: Application Endpoints

Select Add Dashlet again

Create Dashlet with these options:

Url:

monitoring/list/services?service_problem=1&service=%2Asimplehost_tocco%2A&service_display_name!=%2Atest%2A&sort=service_severity&dir=descdeploymentconfig.apps.openshift.io%2Fnice&modifyFilter=1


Dashlet Title: Application Health - Production

New Dashboard: false

New Dashboad Title: Application Endpoints

Select Add Dashlet again

Create Dashlet with these options:

Url:

monitoring/list/services?service_problem=1&service=%2Asimplehost_tocco%2A&service_display_name=%2Atest%2A&sort=service_severity&dir=descdeploymentconfig.apps.openshift.io%2Fnice&modifyFilter=1


Dashlet Title: Application Health - Staging

New Dashboard: false

New Dashboad Title: Application Endpoints

Select Add Dashlet again

Create Dashlet with these options:

Url:

monitoring/list/services?service_state=0&(service=%2Asimplehost_tocco%2A|service_display_name=%2Asimplehost_tocco%2A)&service_display_name=%2A.tocco.ch%20%2A&limit=10&sort=service_last_state_change&dir=desc


Dashlet Title: Recently Recovered Endpoints (*.tocco.ch only)

New Dashboard: false

New Dashboad Title: Application Endpoints